Digital Marketing Analyst
Kick Start Your Career Today - Online Program
Join our free, fully online 20-week program to jump-start your career in Digital Marketing — no experience needed. This program includes a 250-hour paid internship.
Our free program offers you the opportunity to learn all you need to be successful in a digital marketing career, both in the classroom and on the job, in a paid internship – from the technical knowledge to the soft skills that will help you achieve your potential. After the program, graduates are connected with Generation employer partners.
This is an equal opportunity program, and auxiliary aids and services are available upon request to individuals with disabilities.

Program Length
20 Weeks
Full-Time, Online
Presented in partnership with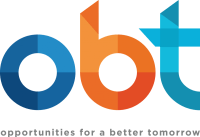 About Opportunities for a Better Tomorrow
OBT's nationally recognized workforce development program provides youth and adults in New York City with an integrated approach to education and job training, with opportunities to advance into jobs in different sectors, or continue their education. Our advanced training programs for high school graduates include health care, technology, and construction career opportunities. Information on OBT's full suite of programs can be found at obtjobs.org/all-programs.
Questions? Reach out!
Our team looks forward to hearing from you and sharing how Generation can help you reach your goals.
Call: 718-387-1600
Opportunities for a Better Tomorrow - Bushwick
25 Thornton Street
Brooklyn, NY 11206
What is Digital Marketing?
If you've ever gone on Facebook and seen posts from a brand you follow or searched something on Google and seen ads relevant to that search pop up, that's digital marketing! Digital marketers are responsible for connecting a brand with current or prospective customers in digital channels such as search engines, social media, email, and other websites.
Is this program right for you?
Skills Earned
Technical Skills
---
We'll help you learn the technical skills with lots of hands-on, interactive sessions. By the end, you'll know:
Building Digital Marketing Plans
Branding
Content Creation
Search Engine Optimization (SEO)
Search Engine Marketing (SEM)
Utilizing Social Media & Social Networks
Behavior & Mindsets
---
In every job, there are key skills that will help you be successful. We'll help you learn how to:
Communication
Teamwork
Time Management
Personal Responsibility
Future Orientation
Growth
Persistence
What your journey will look like
1

Step 1

Complete an application.

2

Step 2

Complete Generation's orientation process with Generation staff. Together, we'll make sure you're ready to begin class with the resources you need to succeed.

3

Step 3

Begin your program. Complete all assigned homework and come to class each day ready to learn and engage with your cohort and your instructor.
4

Step 4

As training progresses, you'll work with the Generation team on mock interviews and perfecting your resume.

5

Step 5

Graduate and celebrate your achievement with your friends and family. Generation staff will work with you as you apply for jobs and interview with Generation employer partners.

6

Step 6

Continue to advance your career. Share your successes with the Generation team and stay connected with Generation.
How we prepare you
In a world of employment programs, Generation takes a different approach to help you succeed. Generation instructors and mentors get to know each student and are there with resources, tools, and information if a student encounters a barrier.
Coaching
The instructors and mentors at Generation aren't just teachers, they're coaches who stand by their students through successes and challenges.
Resume Building
The right resume can open the door to new career opportunities. Generation students learn how to create a resume that showcases their skills and experiences.
Interview Rehearsal
By conducting mock interviews, then providing real-time feedback and coaching, the Generation team ensures that all graduates feel confident and prepared to interview.
Ongoing Support
After graduation, mentors and instructors continue to check in with alums, providing support with the job search and advice for continued success.
Ongoing benefits of Generation
A Trusted Network
Continued contact with the alumni network
Events
Events and workshops to help you keep growing
Give Back
Become a mentor to help others
Support
Troubleshoot your job challenges